Top Winter Destinations in Turkey are wondrous and beautiful. Every season in Turkey has its own specialties and beauties. Turkey is one of the countries where every season of the year is the most beautiful and attractive. Turkey during winter has a different charm and offers you a lot of fun and adventure. Skiing, canoeing, hiking, sea cycling and many other winter sports are available in Turkey. You can also enjoy the fact that there will be much less crowd and you wouldn't need to worry about the endless queues and rush everywhere. Traveling in winter screams nothing but a discount, discount and more discount!! Hotels and restaurants are much cheaper during this season. Winter is when you realize how generous nature is.
1. Agva, Istanbul
Agva is a small coastal village located in the north of Istanbul. It is one of the most attractive and popular resorts of Istanbul. This village is located between the two magical rivers "Yesil Cay" and "Goksu" which pours in to the Black sea. Starting your day with a delicious traditional breakfast, you can then go for canoeing in the river or even sea cycling. Hiking and walking around this small ancient village are another great way to enjoy its unique nature in winter.
During your walk you might even come across some historical remnants as Agva is a village with a 2000 years old history. It is also an ideal destination for those who are interested in hunting and or fishing. After a long day full of adventures, sitting near a fireplace, enjoying the snow fall outside and having a traditional Turkish dinner will make your day even more special.
2. Cappadocia, Nevsehir. The Top winter Destinations of Turkey
The unique landscape of Cappadocia is located in the central Anatolian region of Turkey. Under the white winter snow, Cappadocia and the fairy chimneys look spectacular. One of the advantages of visiting Cappadocia in winter is that there is much less crowd and you might even get a good discount. Located near here is the Mount Erciyes, where you can find one of Turkey's major skiing centers. The location, accessibility, the budget friendly policies, mechanical facilities and the length of its ski tracks are some of the main factors that have turned Erciyes Ski Center to one of the bests in Turkey.
In Cappadocia, you can enjoy your stay at the cave hotels, have a hot air balloon ride, visit the UNESCO world Heritage site of the Göreme open air museum and take a walk in the underground cities such as the Derinkuyu, Acigol, Kaymakli and many more. Hiking is also popular activity in Cappadocia during both winter and summer. Some of the most beautiful and popular hikes in Cappadocia are Love Valley, Pigeon Valley, and Rose Valley. The view, the sunsets and the sunrises are just charming during the winter.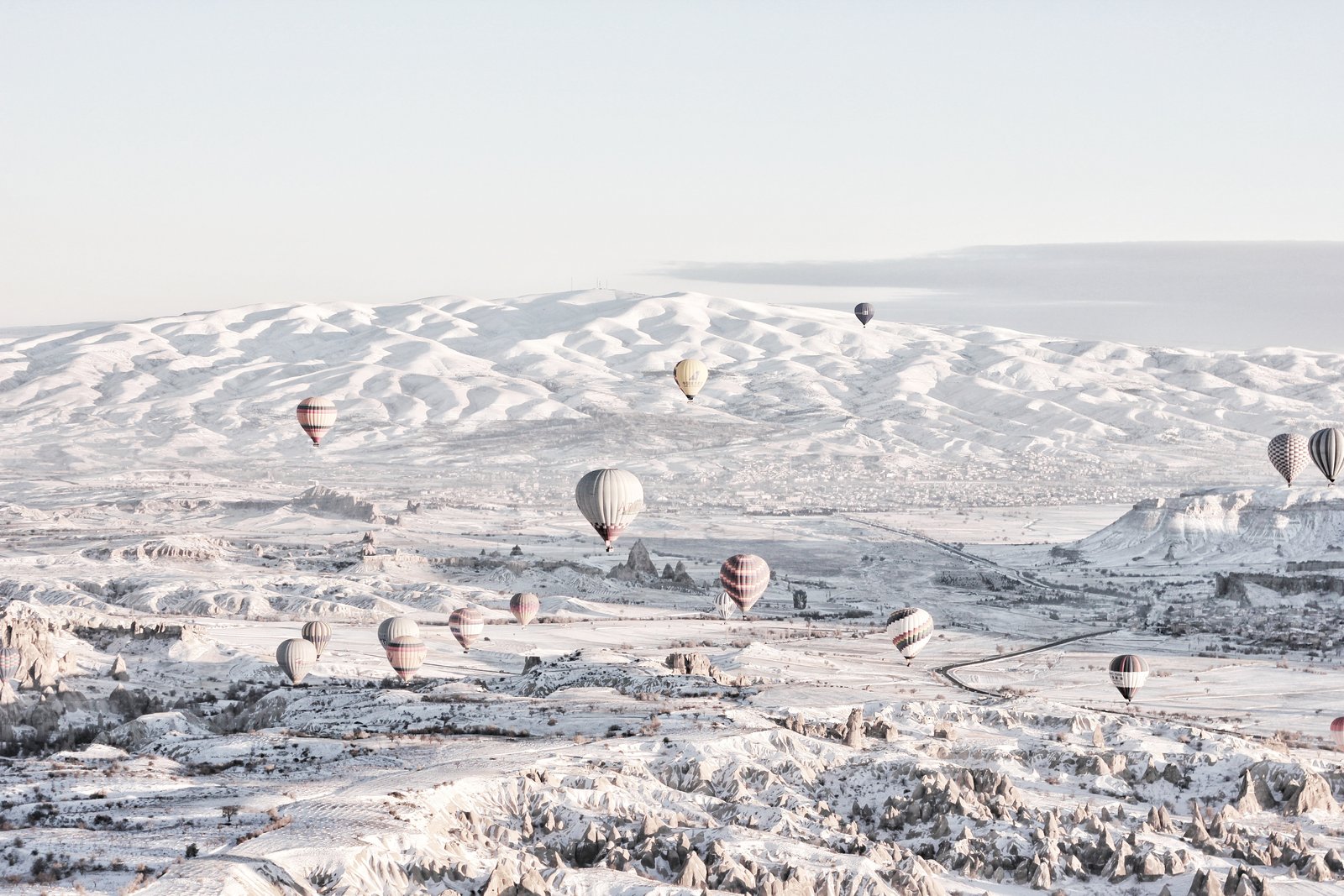 3. Uludag, Bursa.
Uludag is the best place for winter sports, located just 32 km in the south of the historical city, Bursa. This location is also one of Turkey's most easily accessible and the most visited places in winter. It is the lead winter destination in Turkey and is famous for its ski resorts and the beautiful scenery. It has Skating Rinks that can host up to 10 thousand skaters. The ski centers have ski schools for beginners and they are also suitable for experienced skaters. If you have no equipment, there are shops where you can hire all the equipment you need.
These enclosed skating areas are very well designed and the tourists can enjoy ice skating, snowboarding, biking and much more. The Uludag Teleferik or tramway was the world's longest cable car when it reopened in 2016, starting from Tefferuc to Kadiyaylathen Sarialan and finally stops at Otteler. Sarialan is where you can explore the teahouses or have a delicious Turkish barbeque. Oteller is where the Uludag hotels and snow-sport centers are located. When you are around Uludag, you can also visit Cumlikizik, Tirilye and Mudanya.
4. Sarikamis, Kars
Kars is one of the coldest regions in Turkey but it is also one of the most famous winter destinations. It is located in the Eastern Anatolian region and is famous for the Sarikamis ski center and the Eastern express. Taking the Eastern Express from Istanbul to Kars is one of the most exciting train trips you can ever experience. Sarikamis Ski Center is pretty famous its good quality of snow. It has an altitude of 2500m with a large area of wonderful natural beauty. Sarikamis Ski center has 5 ski runs, the longest is 12 km long. For six months of the year it is covered with crystallized white snow making it a perfect skiing spot for professional skiers and beginners too.
If you don't know skiing or don't have any equipment, there are experienced ski instructors that can help you and shops where you can rent the equipment you need. The ski center is surrounded by huge Pine forests. While you are around Sarikamis and interested in history, you can visit the ruins of the former capital of the Bagratid Armenian kingdom known as the city of the 1001 churches.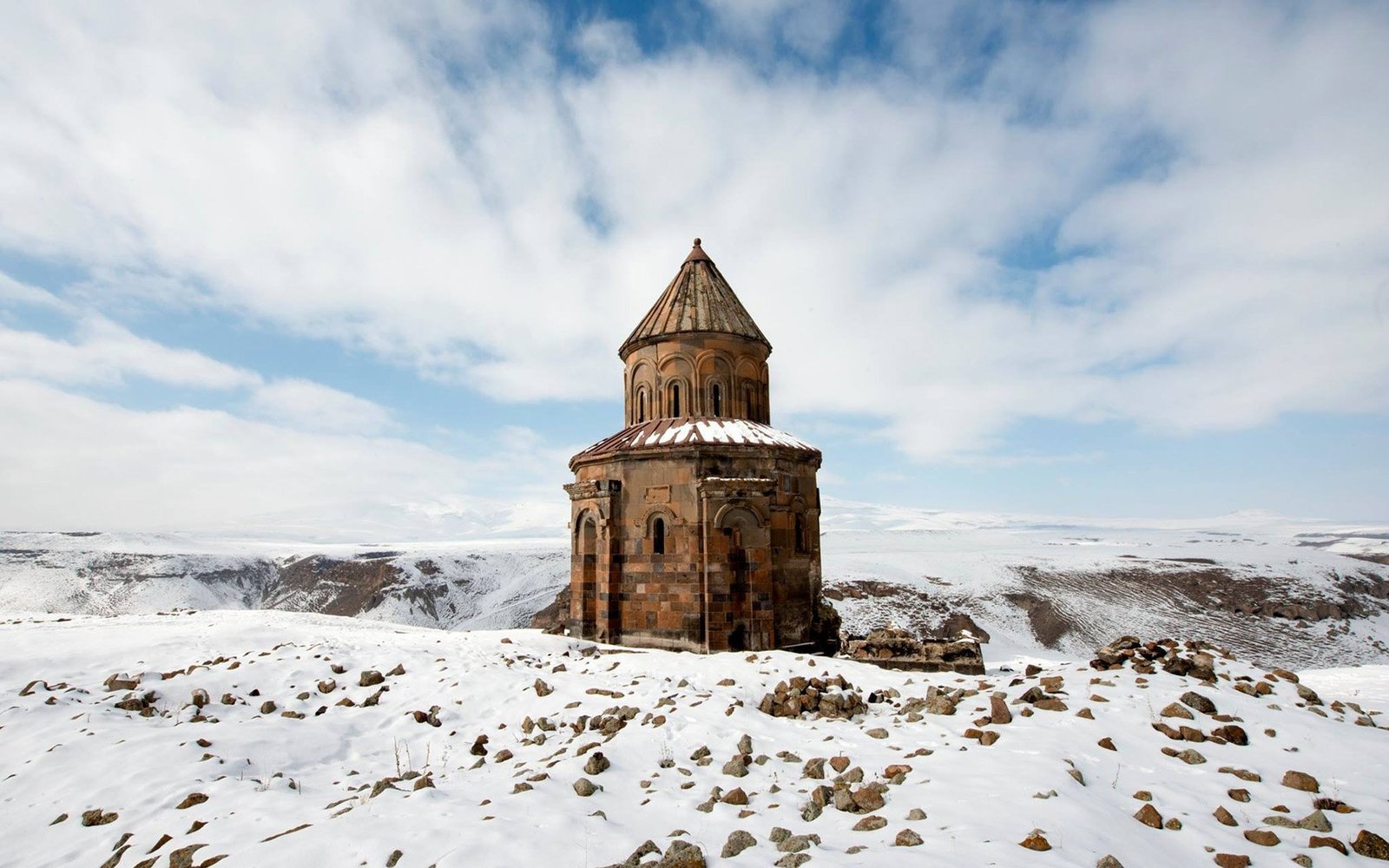 5. Kartepe
Kartepe is one of the top winter destinations in Turkey. It is located in Kocaeli on the peak of the Samanli mountains, 100 kilometers in the east of Istanbul. Kartepe is one of the most important ski centers in the Marmara Region. Kartepe is almost 1600 meters high and it offers a delightful and spectacular view of the Gulf of Izmit, Sapanca lake and the huge forests that are just perfect for amateur and professional skiers. It also features various outdoor activities, including natural hiking, bird watching, paragliding, and horseback riding. Just outside the ski resort, you can participate in paintball, mountain biking and safari tour activities. Kartepe is perfect for spending an adventurous holiday in winter.
6. Van
Van is located in the southeast of Turkey. It is home to the Turkey's biggest lake, the Van Lake, and it is most famous for it. This winter destination has charming landscapes. Even in the lowest temperature the Van Lake never freezes as it is incredibly salty. Therefore, you can have an amazing ferry ride to visit one of the most historic churches in Turkey, the 10th century Church of Holy Cross, in the Akdamar island. Van is a truly beautiful and historical place and it has many castles, mosques, tombs and churches on its shore. While you are in Van you can visit the Van Cat's Home. Van cats are a special breed of cats that are coated with white chalky fur and have blue, amber eyes or are odd-eyed. They also have remarkable swimming abilities.
7. Yedigoller, Bolu
The Yedigoller natural park is exceptionally wonderful and unique with its large and small lakes. It is like a gift to Bolu. These 7 lakes are formed as a result of landslides. This national park is beautiful all year around but its beauty multiplies during the winter, as the white snow covers the ground and treetops. Yedigoller attracts many tourists in the winter and is one of the favorites. Due to effective protection of plants and animal life, the animals inside the park-like deer, wolves, foxes and squirrels are increasing in number.
You can have an amazing experience staying in a beautiful bungalow, tent, caravan or the guest-house. You can enjoy the delicious cuisines especially the trout fishes and warm café in a snowy day in the restaurants. The beautiful scenery makes this place a heaven for photography lovers. You can always enjoy the silence of nature and find absolute peace here.
8. Abant, Bolu
Abant lake is another truly wonderful destination in Bolu, Turkey. At an altitude of 1500, located between lovely alpines and surrounded by beech trees, it has created an amazing scenery. it offers a perfect adventure for nature lovers. It is somewhere you can capture great memories during the winter as the alpine trees and everywhere around you are covered with mystic snow. You can walk around the lake rent a horse or a bobsleigh.
Horse riding is one of the famous activities here in Abant. You can even rent a horse-drawn carriage to have a ride around the 4.5 miles of the stunning Abant Lake.  You can have an amazing stay in the nice hotels, you can even find some 5-star hotels in this popular and relaxing resort and enjoy the local cuisines and cozy rooms. An abundant number of visitors come here every year in the winter as it is close to both Istanbul and Ankara.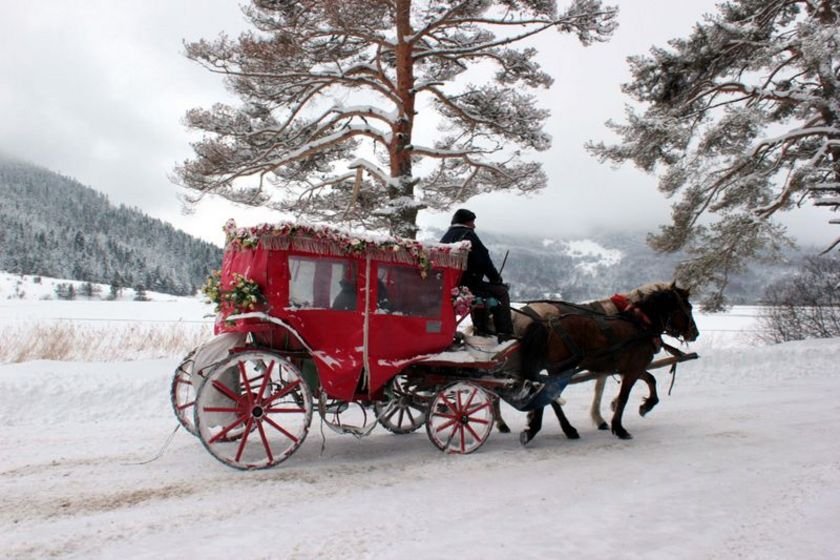 9. Kartalkaya, Bolu
Kartalkaya is another famous winter destination in Turkey, located in Bolu. It is the favorite place for snowboarders and skiers. It is only 38 km away from the city center and also the nearest ski center to Ankara, hence it is one of the most visited ski centers. Kartalkaya is surrounded by pine forests and sits at more than 2200 meters high in the Köruglu mountains. It is a well-equipped center and is an ideal location for Alpine skiing, ski touring, cross-country skiing and other winter sports. This location has 23 marked pistes and 18 ski lifts. It is open for 120 days a year, from December to March. It is usually not crowded on the weekdays and much cheaper than weekends. Here you can find many hotels that are well-furnished, luxurious and suitable for every budget that are waiting to welcome you.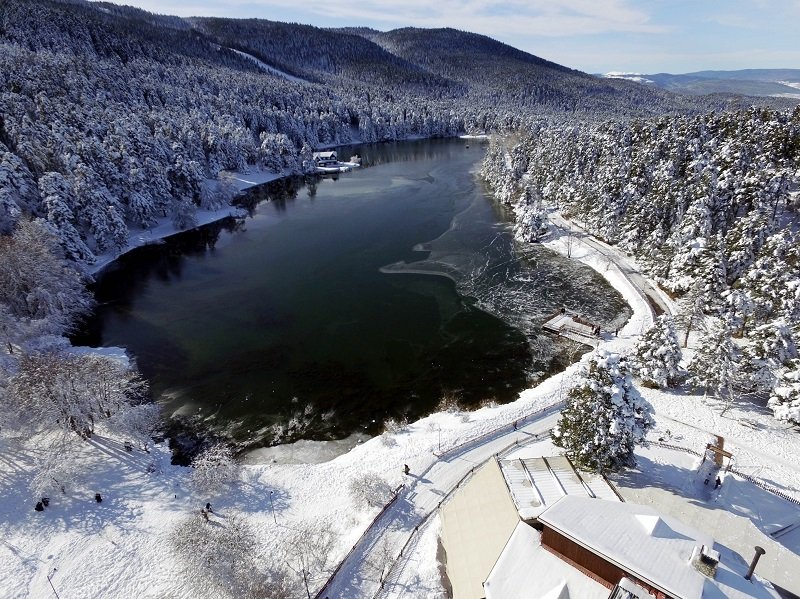 10. Yalova
Yalova is a beautiful city located in northwest Turkey. This city is spectacular and enjoyable during the rainy winter months. Yalova is famous for its thermal springs, spas and healing centers. It has been a center of healing for several civilizations since the Roman Empire. These thermal spas attracted nearly one million local and foreign tourists in 2017. A hot Turkish spa is literally what you need on a cold winter day. If you are visiting Turkey in wintertime then you cannot miss the Turkish hot baths in this city. Mud baths, salt rooms, beauty salons, sports centers, and aqua parks are a real treat in cold weather and you can enjoy all of these facilities in Yalova. You can also have a delightful walk around the city and explore the natural sites in Çınarcık, Aqsa memorial Forest, Harmankaya Nature Park and many more.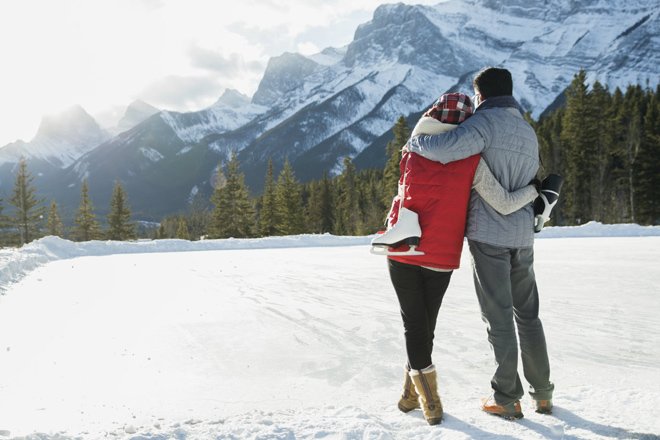 11. Palandoken, Erzurum
The Palandoken Ski center is only 6-7 km south of Erzurum and It is one of Turkey's most dramatic and challenging ski areas. With an altitude of 2100 to 3100 meters, this resort is open only 3 to 4 months a year. It is very much renowned for its light and fine snow which is delightful for skiing. The quality of snow is considered as good as that of the Swiss Alps. The snowfall starts from early November and settles till June, offering many opportunities to the winter sports lovers. One of the advantages here is that fog does not descend in Palandoken so it has clear weather and safe for skiers. It has the longest ski run in Turkey and 2 registered tracks for competitions. Palandoken is the closest ski resort to an airport, it is just 10 minutes away from the airport.
12. Saklikent, Antalya
Antalya, located on Turkey's Mediterranean coast, is a major summer destination that also attracts many tourists in the winter thanks to the Saklikent ski center. This is where you can experience two seasons on the same day. You can have a swim in the Konyaalti beach and ski in the Saklikent which is only 45 minutes away from the city center. With an altitude of 2400m, this ski resort is located on the peak of the Bey mountain. It has 4 ski tracks, active from December to April. Besides skiing, hiking is also a great idea when visiting Saklikent. The Saklikent Canyon is just below the mountain and is a famous spot for hiking. The magnificent view here is totally worth a visit even if you are not a skier.